Our journey has been to develop compression hosiery made from the best quality fibres, combined with innovation and technology. Our mission has been to create exceptional hosiery, which work with the body for improved circulation, as well as a supported silhouette appearance, without ever compromising on comfort or style.
The key was to identify an intelligent fibre composition coupled with cutting edge technology, capable of delivering medical grade compression necessary to effectively boost circulation, and yet be stylish, luxurious, soft and comfortable to wear all day long, working in harmony with the body.
It all started when our founding member, a surgeon scientist, suffered from tired feet and achy legs after prolonged standing at work. He embarked upon finding an alternative to the itchy, scratchy, synthetic (and not very fashionable!), uncomfortably tight compression socks he had to endure whilst working for long hours, or when travelling. He also noticed most of his patients were finding it difficult to put on nylon compression socks easily, he soon realised that he should look for a superior, easy to put on alternative in place of the currently available compression socks. However, it proved impossible to find a better solution that was of high quality, design, feel and which was user friendly (meaning easy to put on compression socks).
Whilst researching and analysing various concepts and solutions, he noticed that most compression socks on the market were not only difficult to wear, but above all else, were unattractive!  Some of the so-called preventative products had very little effective compression, and did nothing to enhance performance or aid recovery.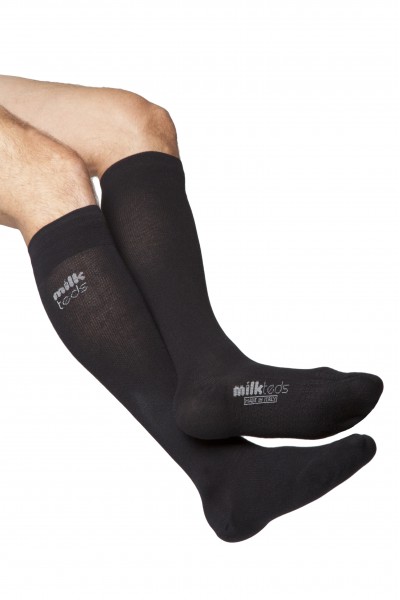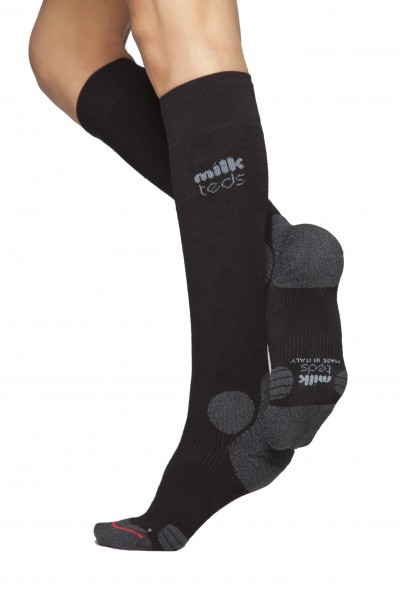 Our founder trialled, tested and perfected many yarns including a unique milk fibre yarn mix, yes it is actually made from drinking milk!  This exceptional fibre has culminated in the innovative properties and features that our quality compression hosiery carry today.
Even though it has been a long journey, we believe that you will like what we have created from combining milk fibre and technology. The challenge now is to address the negative perceptions surrounding traditional compression garments, by shifting consumer's mindset and increasing awareness of the many benefits of wearing compression, ideally every day.
milkteds® is a fusion of concept, design and innovation resulting in a scientifically advanced, comfortable medical grade compression hosiery.
It began as a quest to make a difference; and it certainly won't end here. We do hope you will enjoy wearing our products and feel the benefits of both our current and future innovative ranges; in your life, every day and for all activities.
We would love for you to email your stylish photo's to share on our website and social media pages and please get in touch with your comments, on your wearer experience and any suggestions or ideas. Visit our contact page and share your story.
With our best wishes
The milkteds® Team