The milkteds® concept was created to bring about products with a difference, for the discerning consumer; that confer a sense of well-being, as well as looking great. milkteds® was born in the UK and made to the highest standards in Italy, to give you exceptional quality materials, innovation in design and comfort in luxury.
There is often a perception of 'medicated' attached to compression wear, and a sense of obligation of having to use them on occasion' rather than the desire to 'want to use them daily'. Some compression hosiery feel unnatural, sweaty, itchy and difficult to put on and wear all day long.
We use a yarn mix made from milk protein, (yes, it is drinking milk!), to create products in a range of colours, with a soft, natural feel. Our products function 'silently' in the background using the science of graduated compression as they work their magic to prevent and revive tired legs, swollen ankles and achy feet.
milkteds® hosiery work with your body for a slimmer, toned and supported silhouette appearance, without compromising on comfort. milkteds® are a pleasure to wear for long periods, and should ideally be worn daily as an everyday item or for a particular purpose such as sports, maternity, outdoor, travel or recovery.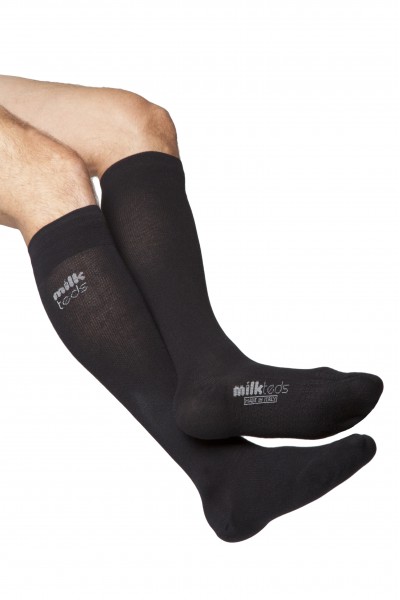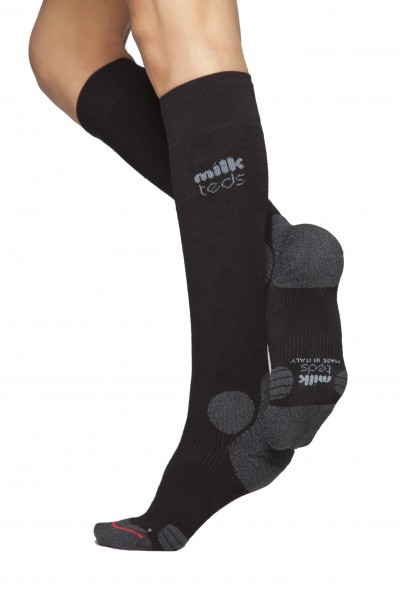 milkteds® compression products are CE marked. milkteds® hosiery provide a degree of circulatory support referred to as British Standard Class I and II. We believe that graduated compression hosiery with mild to moderate degree of compression (upto 22 mmHg) is beneficial for everyone, everyday.
This level of support is considered to help prevent or relieve tiredness, early swelling (mild oedema), spider veins, and mild varicose veins. milkteds® can also be worn when convalescing post-surgery, throughout pregnancy as anti-embolism products, during outdoor and sporting activities or when travelling to avoid thrombosis.
Our hope is to increase awareness of the many benefits of wearing compression socks, and tights everyday and for all occasions.   To this end, milkteds® offers you a unique range of colours and styles to suit your every need. Our products are bursting with 'intelligent' features. They are easy to put on; soft, and smooth with a luxuriously comfortable feel, unparalleled in today's compression wear products.