Our unique milkteds® range of socks and stockings consist of a unique yarn that contains milk protein. The milk fibre was awarded the International Ecological Textile Oeko-Tex Standard 100 authentication in April 2004.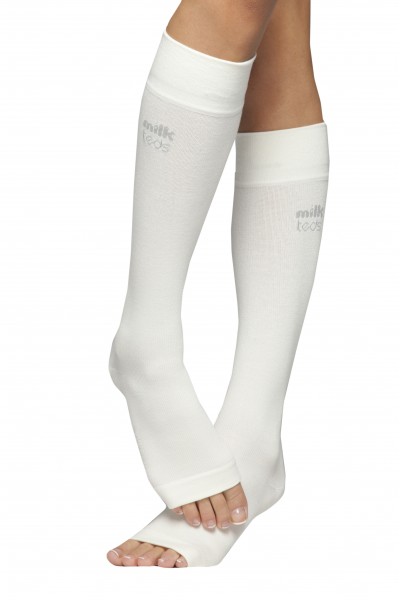 Properties of milk fibre:
Skin care
Disinfect
Antibacterial
Antifungal
Hygroscopic because it absorbs moisture
Allergy friendly
Temperature regulating
Silky shiny and luxurious in appearance, feel and comfort
Durable, extremely tearproof
Colour and shape retaining
Fast drying
How sustainable is milk fibre?
Low water consumption
Recycling waste products
100% natural
Not vegan
What makes milk fibre special?
Milk protein fibres are synthetically produced fibres that are obtained from the milk protein casein. In 2011, the new fibre made headlines as a particularly ecological alternative to cotton.
Casein fibres have been known since the 1930s. Only 2 litres of water are required to produce 1 kg of milk fibre. In contrast, 10,000-25,000 litres are consumed for 1 kg of fabric in the production of cotton textiles.
Every year in Germany alone, around 2 million tons of milk have to be disposed of, which cannot be used in the food market, since they are no longer suitable for consumption. They still contain valuable ingredients and offer great potential for technical purposes.
In the production of milk protein fibres, milk production is not boosted, but rather by-products are used that are unavoidable in milk production.
The required casein is therefore only obtained from milk, which, due to the statutory milk regulation, must not be used as food.
Milk fibre is one of the new high-tech textiles, a material that meets the highest standards of sustainability, as it is a biodegradable fibre material. In addition, milk fibre is also counted among the Smart Textiles, which have positive effects on the wearer and his health. Special advantages of the new fibre are the natural bacterial inhibition, climate regulation and good tolerance for allergy sufferers.
Due to its consistency, casein can be processed into a fibre that allows it to be combined with other fibres. Since the milk fibre is particularly skin-friendly, it has an anti-allergenic effect and is biodegradable. The possible uses are limitless.
It is therefore ideal to combine them with yarns that are worn directly on the skin because they become soft and supple like a second skin. The milk fibre could therefore also be called milk silk.